National Forest
03-10-2005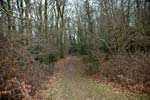 Woodlands for sale throughout the UK. Call
01727 701641
for current availability in your area.
Vantage Land
01727 701641
www.vantageland.co.uk
Have you ever heard of the National Forest? An area covering 200 square miles in the East Midlands is slowly being transformed into the largest wooded area in England.
Britain is the least wooded country in Europe, and the East Midlands was a rundown area of derelict coal mines and gravel pits, disused potteries, polluted rivers and silted up canals.
Started 10 years ago, a pland was hatched to link two fragments of ancient forest - Needwood in the west, and Charnwood in the east - by planting millions of trees.
Six million trees have now been planted forming 500 new woodland areas. It's still early days with the saplings waist high, but some plantations have already grown to 20 feet, and the new woods, glades and wetlands have been colonised by wild life including woodpeckers, bats and otters.
Much is being made of the past - pits have become lakes, slag heaps are now nature reserves, and furnaces and kilns become museums celebrating the unsung history of local miners and potters.
Get the latest woodland news direct to your desktop with the Woodland Owner RSS feed

.