Phones for Woodland
26-08-2005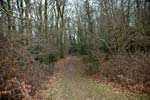 Woodlands for sale throughout the UK. Call
01727 701641
for current availability in your area.
Vantage Land
01727 701641
www.vantageland.co.uk
It sounds like a fair swap - trade in your unused mobile phone in exchange for new trees, thanks to a joint initiative from Barclays, specialist recycler Cellular Surplus and the Woodland Trust.
Under the scheme, Barclays customers and the general public will be encouraged to donate their old phones - currently sitting unused in desk drawers across the nation - by collecting a special Freepost recycling envelope available at more than 1,000 Barclays Branches across the UK. The phones will be recycled by Cellular Surplus, which will donate up to pounds 10 per phone to the Woodland Trust.
"To the Woodland Trust, pounds 10 is what it costs to purchase land, supply a sapling, plant and care for one native tree," said Kathryn Mintoft, Environmental Manager at Barclays.
"Alternatively the money might go towards some of their other activities such as fighting threats to ancient woodland and conserving woodland biodiversity.
"Even recycling a modest fraction of our unused phones could end up making a difference to the environment.
"More than 18 million mobile phones are sold each year in the UK, the majority of which are probably replacement phones. That means there are millions of phones that need recycling in the UK, as they can be harmful to the environment if they are sent to landfill."
Get the latest woodland news direct to your desktop with the Woodland Owner RSS feed

.