Timber prices soar 50%
21-04-2006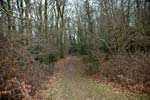 Woodlands for sale throughout the UK. Call
01727 701641
for current availability in your area.
Vantage Land
01727 701641
www.vantageland.co.uk
The latest report from UPM Tilhill and Savills reveal that timber prices have increased on average by 50 per cent in the past three years, with most of that coming during "the exceptional year" of 2005.
That dramatic increase came as a surprise to many agents, Richard Stirling-Aird of Savills said "There is clearly more optimism about future timber prices than there was, say, three years ago.
"We are also increasingly seeing buyers prepared to attach greater value to the amenity, sporting and environmental value that forests can provide." A continued price boom in 2006 is unlikely, he said: "But we certainly see no reason for prices to fall."
Most of the forests now being traded were planted between the late 1940s and late 1980s by private investors taking advantage of tax relief for doing so.
Sitka spruce is the dominant species in the uplands of Scotland, Wales and northern England. Forestry now occupies about 12 per cent of the UK land area - most of it in Scotland - and produces about eight million tonnes of timber annually, less than 20 per cent of UK needs.
Demand for small woodland areas is also keen, said Hart: "Woodland values are now often similar to, or higher than, the value of surrounding farm land.
"Over the past decade we have seen that gap in price close and some high-amenity woodlands can even command a premium over adjacent farmland values. That is good news for farmers thinking about planting trees."
Get the latest woodland news direct to your desktop with the Woodland Owner RSS feed

.