Bill Bryson backs woodland
19-08-2005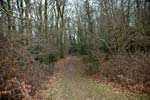 Woodlands for sale throughout the UK. Call
01727 701641
for current availability in your area.
Vantage Land
01727 701641
www.vantageland.co.uk
Bill Bryson is the latest celebrity to back the bid to protect the largest ancient wood remaining in Wales, Wentwood Forest. Just £10,000 remains to be raised to meet the Woodland Trust's £1.5m required to save the woodland.
Since the launch of the appeal last month, more than 15,000 people have pledged their support including Dame Judi Dench.
Mr Bryson said: "This vast tract of ancient woodland is among the few remaining pieces of wilderness in south Wales and its significance as a place of refuge and habitat for thousands of species should simply not be underestimated.
"This is a virtual one-off opportunity to safeguard it for future generations."
The trust said ancient woodland was the UK's equivalent to the rainforests. The 870 acres (352 hectares) of woodland is regarded as one of the richest wildlife habitats in the country - home to 75 species of birds and 23 species of native butterflies.
Wentwood just part of a woodland that once stretched from the River Usk in south Wales to the Wye Valley before the majority of its native broadleaved trees were felled to provide timber during World War I.
Get the latest woodland news direct to your desktop with the Woodland Owner RSS feed

.