Woodland Burials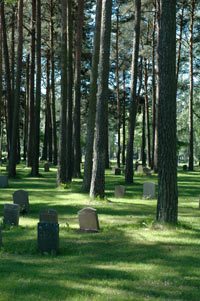 Death might be considered a grim subject, people's attitudes are changing with more and more options to make funerals more poignant and individual through woodland burials.
The environmentally conscious are requesting eco-pods and those that love the outdoors are shunning the cemeteries in favour of woodland burials.
Woodland burials are increasingly popular as a growing number of people would like their resting place to be among nature. Traditionally woodland burial sites are marked by a tree and a number, rather than a headstone.
With around 200 sites in the UK, there are a number of considerations when opting for this alternative.
What long-term guarantees of the security of the grave are provided?

Will the site be maintained?

What if the site goes bankrupt?

On what ecological principles is the site managed?
But this is WoodlandOwner - if you've your own woodland or know someone who does then you may want to be laid to rest there, so what are the requirements?
Planning permission is not required for non-commercial burial sites, for a limited number of family and friends. You will however need to ensure the legal requirements are met.