Woodlands for Wales - a 50 year plan
11-01-2006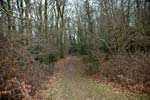 Woodlands for sale throughout the UK. Call
01727 701641
for current availability in your area.
Vantage Land
01727 701641
www.vantageland.co.uk
Countryside partners are to take part in a major conference to discuss progress on the National Assembly's blueprint for woodlands in Wales over the next 50 years.
The findings of a progress report outlining the successes and problems encountered over the past four years will be announced to 120 delegates.
The conference, called "Woodlands for Wales, working together to make a difference", is hosted by Forestry Commission Wales and is the first of what will become a regular event to steer Wales towards the future mapped out in the Assembly's strategy, Woodlands for Wales, which was launched by Mr Jones in 2001.
Ian Forshaw, director of Forestry Commission Wales, opens the day-long conference, during which delegates will be urged to propose up to three practical proposals to step up progress in each of the five priority areas identified in the strategy.
Get the latest woodland news direct to your desktop with the Woodland Owner RSS feed

.