Woodland prices rise due to growing interest
28-06-2005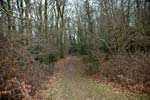 Woodlands for sale throughout the UK. Call
01727 701641
for current availability in your area.
Vantage Land
01727 701641
www.vantageland.co.uk
The average price of woodland stands at £1817 per hectare, according to the Forest Market Report for spring 2005 - a 14% rise during the past year.
Thanks to a resurgence of interest in woodlands as investment opportunities, more people wanting property as an asset, and the availability of Forestry Commission grants for maintenance of private woodlands.
The primary reasons for people buying woodland is Capital growth, coupled with Inheritance Tax mitigation, with a growing interest from European investors. Other factors include amenity, sport, and development hope value.
The report by Tillhilll Forestry also demonstrated the correlation between property size and unit area price. The smallest size category sells at an average of £2,600 per hectare - up £500 from the previous year. Woods over 200ha copme in at around £1,530 per hectare.
The average price of a small woods is approximately £75,000.
Of the 94 forests and woods sold in 2004, the majority were reportedly planted between the second world war and the 1980s by private investors.
The study expects further growth in the popularity of forests, partly due to increasing fears about the environment.
Get the latest woodland news direct to your desktop with the Woodland Owner RSS feed

.